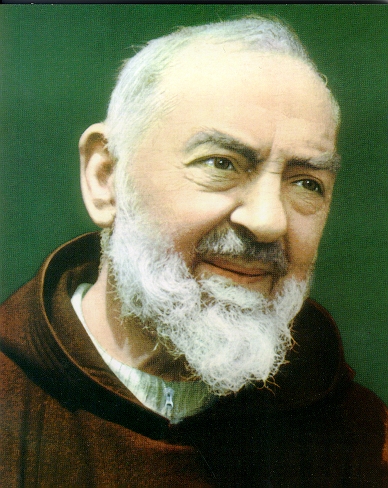 Julie Rydz (01843 584356). Every 4th Tuesday of the Month at 7pm in the Parish Room
The Padre Pio prayer group was formed by seeking permission, firstly from the parish priest, and then from the Diocesan Bishop, and finally by registering with the official centre for the prayer groups in San Giovanni Rotondo, Italy. All this was an important part of forming the group so as to be in accordance with the wishes of St. Pio, the founder of the prayer groups. The prayer groups have no purposes and aims other than those of the Catholic Church. This was very important to Padre Pio – he did not want the prayer groups which were close to his heart to separate and form their own identities, saying they were inspired in some special way by 'Padre Pio'. The prayer groups' focus is on Prayer with the church, for the church and in the church, with active participation in the liturgical life, lived sincerely and with intimate communion with God. They are beacons of light in our suffering society which has lost its values to the darkness of sin.
Padre Pio died on September 23rd 1968, 50 years after receiving the stigmata, the wounds of Christ's passion. He suffered the pains of those wounds lovingly and willingly to save souls and to help those in need and for those who had asked for his intercession; he felt compassion for those who suffered in mind, body and spirit, and through intense prayer would intercede for their healing – bodily and spiritually. Many people were miraculously cured and many others reconciled with God and made ready for heaven. Even now, from heaven, St. Pio brings hope to his spiritual children who come to him in prayer for their loved ones; he would say to those who sought his help, "I can refuse no one" and "Pray, hope and don't worry".
The prayer group meets once a month, on the 4th Tuesday each month at 7 o'clock in the Parish room for an hour of prayer; members bring the intentions of their hearts and offer them in prayer and faith through the intercession of St. Pio who had a great devotion to Our Lady; and so also place the prayer group is in the care of our heavenly Mother under the title of 'Our Lady of Grace'.  Members of the prayer group also meet once a month for holy mass on the 1st Thursday of each month at 7:30 p.m., to pray for the prayer group's intentions. Daily prayer and frequent reception of the sacraments of Holy Eucharist and Reconciliation is recommended.   There will be an emphasis to pray for the needs of those we are as a parish trying to reach out to; we also invite you to come and pray with us. If you would like to find out a little more about St. Pio we have some books and prayer cards in the porch, free of charge. If you are interested in coming to a prayer meeting there are some leaflets also in the porch with dates of the prayer meetings.